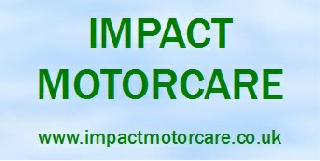 © Impact Motorcare 2015-19. For Important information, Consumer Rights, Cookies and Privacy Policy Click Here
Terms
Important Information.
Any advice contained in this website is only of a general nature.
It may not apply to your vehicle or circumstances.
Do NOT carry out any repairs or other work on your vehicle based on information in this website without it being individually diagnosed as correct and relevant to your vehicle and its condition.
Any prices in this website quoted are subject to change without notice.
Please check before authorising any work on your vehicle.
Any services offered are subject to availability and may be withdrawn without notice.
Please check before booking.
Consumer Rights Act 2015 Click here.
We are an independent car repairer and manufacturer names used are for identification purposes only and do not imply any official authorisation or affiliation.
Privacy Policy.
Mobile Privacy Policy page(s) under construction. Please click here to read main PRIVACY POLICY page.
Cookies.
Impact Motorcare does not use or collect any Cookies itself.
See Main Site terms for more information.
Data stored by cookies: No personal information about you, just information about your computer and your browser.